Since at least the mid-1990s, Wheel of Fortune has had various official and unofficial adaptations.
1996-2000?: Wheel of Fortune - Live!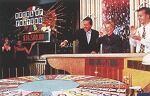 Main article: Wheel of Fortune - Live!
A GSN-sponsored tour hosted by Bob Eubanks (later Michael Burger), with local celebrities taking the role of hostess. The grand prize was originally a trip to Los Angeles, where the winner would appear on GSN, but in 2000 became a Progressive Big Money Jackpot that started at $25,000.
1997-98: Wheel 2000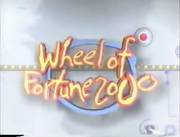 Main article: Wheel 2000
September 13, 1997 saw the debut of a Saturday-morning children's version hosted by David Sidoni with puzzle board and announcing duties held by the motion-capture CGI "Cyber Lucy" (Tanika Ray). First-run episodes aired concurrently on CBS and GSN through February 7, 1998.
2003: Wheel O' Fortune
A stage show done at Chumash Casino on at least December 2, 2003, hosted by Chuck Woolery (who entered to "Big Wheels"). Seven games of two puzzles each were played, each game calling a new group of three from the audience. The Wheel had 24 wedges: one each of Bankrupt, Lose A Turn, Free Spin, $300, and $500; various values from $25-$200; and two $1,000. Vowels cost $25.
Audience members who were not called were given an opportunity to win $250 by finding a star under their chair. The show also had promos for Lingo plus songs sung by Chuck after two puzzles (specifically AIN'T MISBEHAVIN and I'M FOOLIN MYSELF).
Amusingly, the stage show brought Woolery full-circle: the Wheel was vertical, much like that of the Shopper's Bazaar pilot 30 years earlier.
2013: Wheel of Fun
A mini-game done as part of a Fox & Friends series on "The Great American Game Show", with The Game Show Source providing the props and software. Woolery was scheduled to host, but got stuck at an airport and could not make it in time; as a result, Steve Doocy took the reins.
Two of the other games played during the week were Survey Says (Family Feud) hosted by Louie Anderson and In It to Win It (Minute To Win It) hosted by Shadoe Stevens.