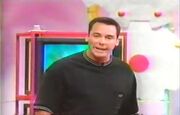 David James Sidoni (born March 8, 1970 from Los Angeles, California) is an actor whose career more or less began when he played (albeit uncredited) a Russian dancer in Michael Jackson's famous 1991 Black or White music video. In 1992, he was cast as "Pie Eater" in the Disney film Newsies, to which he was complimented on his acrobatics by Gene Kelly, and shortly afterward began playing various larger roles on Nickelodeon's popular 1992-94 series Roundhouse. During and after Roundhouse, Sidoni worked with MTV Networks on various projects.
In 1995, David began hosting the children's game show U to U: On the Road, which ended after four episodes. His next series, Nick's Bing! The Sound of Something New, fared little better at ten episodes.
In September 1997, Sidoni began hosting the children's spinoff Wheel 2000, which ran concurrently on CBS and GSN; he also hosted the cross-country live tour.
While the series finished its 22-episode run in 46th place, it was the highest-rated children's show on CBS – a network whose Saturday-morning lineup at this point was continuously ranking a distant fourth, resulting in a complete overhaul of the schedule.
Despite appearing to be a rather obscure footnote, David returned to the franchise during the 2000s to tour the country in the Wheelmobile, hosting shows and helping to audition potential contestants.
After WheelEdit
In July 1998, David hosted Disney Channel's game show adaptation of Mad Libs, which ran until mid-1999. Following this, he worked on various projects and played a TV host in the 2004 Unfabulous episode "The Pink Guitar".
David appeared in the audience of Who Wants to be a Millionaire? on October 18, 2001, and was pointed out by host Regis Philbin due to Sidoni being a host of the "Play It!" version at Disney's California Adventure.
For a time during the 2000s, he was an agent for Prudential California Realty. He is currently a full-time employee and founding partner of Sidoni & Arriola, a California real estate company, although his "about" page contains no hint that he held any jobs prior to being a Realtor.
Personal Life
Edit
Sidoni married Karen Gresh on December 30, 1995, but the two divorced in 1999. He is currently married to a choreographer, as his website and videos (below) indicate.
References
Edit
External Links
Edit
Community content is available under
CC-BY-SA
unless otherwise noted.