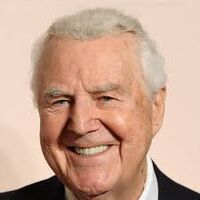 Dominick George "Don" Pardo (February 22, 1918 - August 18, 2014 from Westfield, Massachusetts) is an American radio and television announcer who began his career in 1938 at WJAR-AM in Providence, Rhode Island, later joining NBC as a staff announcer in 1944; during World War II, he worked as a war reporter for NBC Radio.
For game show fans, Pardo is recognizable from his work on many beloved (and mostly gone) games including Winner Take All (1952), Eye Guess (1966-67), and Three on a Match (1971-74). His seven years as "Brother Pardo" on the original version of The Price Is Right (1956-63) are notable for being the only time he hosted a game show, filling in for Bill Cullen on December 31, 1959 and December 28, 1962; he also appeared on-camera at least twice: April 16, 1958 (nighttime) when his sixth child was born just minutes before airtime, and his last episode on September 6, 1963.
Don is also famous for his work on the original Jeopardy! (1964-75), returning as announcer for "Weird Al" Yankovic's music video "I Lost on Jeopardy" (which also featured Art Fleming). Amusingly, Johnny Gilbert, who does the current version of Jeopardy!, replaced Pardo on Price in 1963 and also filled in for Cullen.
Generally, Pardo's most recognized work is NBC's long-running Saturday Night Live (originally NBC's Saturday Night), a job he held well after having officially retired from the network, albeit prerecording his portions from his Arizona home beginning with Season 36. His appearances include various game show parodies (most notably Jeopardy! 1999) and an on-air celebration of his 90th birthday (February 23, 2008).
Among many other things, Don was announcer of WNBC-TV's Live at Five newscasts (often seen on-camera) and did the same for the Macy's Thanksgiving Day Parade until 1999. In 2010, he was inducted into the Television Hall of Fame.
Pardo announced the nighttime weeks of November 14 and 21, 1988, which comprised the show's trip to Radio City Music Hall in New York and the only time someone filled in for M. G. Kelly. It is believed to have been Don's only game show work since the original version of Jackpot! ended on September 26, 1975.
Don died in his sleep on August 18, 2014 from Tucson, Arizona. A week after his death, NBC announced that SNL alumnus Darrell Hammond would be the new announcer.
External Links
Edit
Community content is available under
CC-BY-SA
unless otherwise noted.