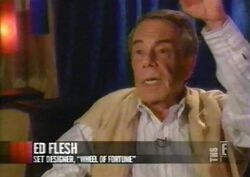 Edwin Albert "Ed" Flesh Jr. (December 4, 1931 – July 15, 2011 from Philadelphia, Pennsylvania) began his career as a designer for off-Broadway shows in New York, although in the late 1950s he assisted in creating the atmosphere of Treasure Hunt. In the late 1960s, he became NBC's Supervisor of Scenic Design and later moved to Burbank as Senior Art Director for Days of Our Lives.
Flesh was among those who used bright lights and pastel colors on sets, a far cry from the 1950s-60s (typically colors chosen to look good on monochrome TV sets and cameras) and 2000s-10s (typically dark with "mood lighting").
Ed's connection is quite large, as he was the designed the more well-known set and Wheel first seen in 1974. While the Wheel is today a steel-and-Plexiglass model weighing more than 2,400 pounds, the Wheel of 1974 was much lighter and consisted of cardboard, paint, and light bulbs.
While many articles credit Flesh for creating the Wheel of the 1973 Shopper's Bazaar pilot (based on casino wheels in use since the 1940s), he is not actually listed in its credits, with the Art Director credit going to Spencer Davies. Given how both Merv Griffin and Lin Bolen felt about the 1973 pilot (particularly the latter criticizing the set), it is likely that Davies was considered part of the problem with Bazaar.
In 2005, Ed was among the many who contributed to the E! True Hollywood Story on Wheel. The Paley Center's listing for the 1976 All-Star Dream Machine Championship credits him as "Art Flesh".
After WheelEdit
Flesh left NBC in the late 1970s, and his subsequent work includes artwork and sets for Name That Tune (1976-81), Second Chance (1977), Pyramid (1982-91 redesign of Jim Ryan's 1973-81 set), Press Your Luck (1983-86; notably, he designed the Big Board's slide-changing system), The New Newlywed Game (1985-87), Lingo (1987-88), Supermarket Sweep (Lifetime/PAX), Monopoly (1990), Jeopardy! (1991-96), Caesars Challenge (1993-94), Late Night with David Letterman, The Montel Williams Show, three special episodes of The Oprah Winfrey Show, and the NBC special Those Wonderful TV Game Shows (1984), among others.
Along with the above, several unsold game show pilots owed their artwork and sets to Flesh, including The Riddlers (1977), Twisters (1982), and Jackpot! (1984).
Flesh died at the age of 79 in Mission Hills, California due to congestive heart failure brought on by chronic obstructive pulmonary disease.
External Links
Edit
Community content is available under
CC-BY-SA
unless otherwise noted.