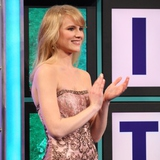 Katie Cantrell is a full-time art student who won the Wheel of Fortune Vanna for a Day contest in Season 28, having been chosen from five finalists (which had themselves been selected by the producers from over 1,000 audition videos). Cantrell's audition video consisted of her having "the Vanna Effect", where everything she touched got a letter on it.
Her episode aired March 24, 2011, and she was introduced by Pat Sajak in a manner not unlike the "classic" hostess introduction last used on April Fool's Day 1997. Notably, while Katie's first letter was N, the first letter called was T, which was Vanna's first official letter. She also appeared on that morning's GSN Live.
While Cantrell was praised for her work (several fans noting that she looked somewhat like Vanna did in the 1980s), it was quickly noted that Wheel had essentially lied about the prize. Rather than doing a full episode or taping day, as the contest title suggested, Katie only did Rounds 2 and 3 plus a car pose after Round 4 - by no stretch of the term a "day". It is believed that the contest's name in fact referred to being treated like Vanna for a calendar day.
It was briefly speculated that the purpose of the contest was to find an eventual replacement for Vanna, although the show denied this; early in the contest's duration, at least one fan jokingly suggested Susan Stafford.
Community content is available under
CC-BY-SA
unless otherwise noted.