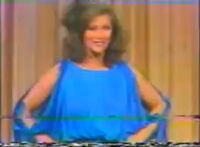 Summer Robin Bartholomew (born November 20, 1951 from Merced, California) is a model and actress who gained fame for winning the 1975 Miss USA pageant, and also appearing in the Michael Landon film Love Is Forever.
Bartholomew is best recognized among game show fans as the 1984-89 hostess of $ale of the Century, replacing Lee Menning after she had departed. She was also in the audience of The Price Is Right on March 19, 1976, with then-host Bob Barker noting her presence.
Summer's first known appearance on Wheel is the Brides Week of January 24, 1977, where she modeled various bridal gowns the players could purchase. She returned that September to fill in for Susan Stafford after an injury, and again from May 24-June 1, 1979 for the same reason.
Following Susan's departure in October 1982, Bartholomew was among the candidates who auditioned on-air. She lost to Vanna White, who had herself appeared on Price on June 20, 1980 (an episode which also had a Showcase involving brides) prior to her first episode as hostess.
Wheel itself has recognized Summer's contributions at least once, in a December 1989 daytime episode which celebrated the show's reaching a combined total of 5,000 episodes. On April 8, 1998, sister show Jeopardy! used it as a clue in a "Game Show Women" category (the correct response being "Wheel of Fortune"); amusingly, the correct response was given by a male named Pat.