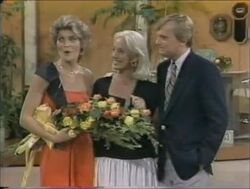 Susan Stafford (born Susan Gail Carney on October 13, 1945 from Lynn, Massachusetts) was the original letter-turner on Wheel of Fortune from its August 28, 1974 pilots through October 22, 1982.
Early Career
For three years (about 1971-74), Susan helmed her own radio talk show and, early on, became entertainment editor for the McLendon radio stations. Her show included such guests as Sugar Ray Robinson and Senator Barry Goldwater. Around March 1972, the show (by this point heard five times daily) began to be syndicated to progressively more stations (known stations include WGAR in Cleveland, KOST in Los Angeles, XTRA in San Deigo, and WWWW in Detroit[1]).
In April 1973, Stafford spent a week filling in for Mario Machado on KNXT's Noontime.[2] On June 29, Susan became entertainment editor for KMEX-TV's NFB (News, Finance, and Business) section.[3] On December 7, she appeared in the first portion ("Love and the Awkward Age") of that night's Love, American Style.[4]
During this time, Susan had ambitions of becoming a female Johnny Carson, possibly even taking over The Tonight Show.[5]
Stafford became the show's hostess through odd circumstances: when Merv Griffin and his company were planning a 1974 revamp of the failed Shopper's Bazaar format, the puzzle board was to be the complete opposite of its 1973 pull-card system: namely, a fully-automated board with trilons. As this system was not completed in time, Susan was hired to turn the letters. During these pilots, she briefly introduced the contestants, talked with host Edd Byrnes during the closing segment, and forgot to turn a letter at least once; following the taping, Stafford confronted Byrnes due to his being drunk.
Susan remained when the series debuted on January 6, 1975, developing a rapport with Chuck Woolery that remained for the next seven years; indeed, when Chuck failed to show up at a taping in mid-1980, she called her friends Pat and Shirley Boone during a stopdown to check on him. On the other hand, she did not like Pat Sajak initially for the simple reason that she did not like change (and especially one such as this), but warmed up to him within a few months. During this period, Mark Goodson had unsuccessfully tried to make her one of the models/Barker's Beauties on The Price Is Right.
Stafford took the job because she needed to make a living after receiving little in a divorce settlement (she had been married to a multimillionaire), and initially received $1,500 per episode.[6] She was also notable for being the first game show hostess to get her own wardrobe plug (Giorgio), and the first to have a microphone.
During this time, Susan found herself getting more fame than she had even in her three-year radio series. She appeared on the premiere of NBC's one-season Ellery Queen series ("The Adventure of Auld Lang Syne"; September 11, 1975) and a final-season episode of Marcus Welby, M.D. ("The Covenant"; September 30, 1975).[7]
Hosting Style
Susan was far more "physical" in her work than Vanna and closer to a co-host: gesturing at the board, players, and Used Letter Board; cheering for contestants; and rooting for Chuck to hit top dollar in the Final Spin. She also frequently danced to Alan Thicke's puzzle-solve and commercial-break cues.[8]
Stafford would minutely adjust trilons and letter slides to line up with the others, place her hand on the leftmost trilon of the third row in a sort of "patient waiting" pose, usually make some kind of motion whenever on-camera, turn letters two at a time once a puzzle was solved (on several occasions, the letter slides came partway off the trilons when she turned them, and she typically slid them back into place), and frequently turned letters and punctuation marks quicker than the "correct letter" bells could sound and the respective lights activated; per fan recollections, that practice of "jumping the gun" was a problem on early episodes since she would sometimes end up turning the wrong letter, causing the round to be replaced.
When in Speed-Up mode, Susan would often join in on the hosting: waving her finger at the contestants to inform them of letters not in the puzzle, pointing to the contestant in control, walking backwards after turning a couple of letters, doing a turn herself and leaning back after turning a letter, and turning all the letters and bowing to the winner when the puzzle was solved.[9]
Stafford also drove cars that contestants purchased, even after her accident in 1979 (see below). According to one recollection, during one episode she repeatedly hit the car horn while Charlie O'Donnell attempted to read the prize copy.
Susan had an odd habit during at least 1982, and almost certainly earlier, of moving audience members around during commercial breaks. This was mentioned by Pat at the end of a September 1982 episode.
Absences
Stafford is known to have been absent from Wheel at least twice:
The first, in September 1977 for at least four weeks, occurred after she fractured several vertebrae while rehearsing for Circus of the Stars.[10] Summer Bartholomew filled in for most of this time, and

Arte Johnson

did at least one episode (mostly to promote his NBC game Knockout).
The second was from May 24-June 8, 1979, following a car accident in which Susan dislocated her shoulder. Summer filled in through the 1st, while

Cynthia Washington

did the week of June 4-8.[11]
Departure
"I mean, for seven years I stood there and turned letters. I had to ask myself if that was any way for a grown woman to live her life."
As 1982 rolled on, Stafford became progressively more distracted, believing that there needed to be something more to her life than simply turning letters. Susan eventually realized that she wanted to pursue charity work and medicine, notifying Merv Griffin Productions of this around September; her final show on October 22 was notable for its closing segment, where producer Nancy Jones appeared on-camera with a bouquet of flowers and various staff members said goodbye.
Following Susan's departure, several women filled in until Vanna White was chosen as her successor on December 13. Stafford returned to the daytime show from June 16-20, 1986 to fill in for White, who was mourning the death of her then-boyfriend who had died in a plane crash.
After Wheel
"The one thing that bothers me is when I tell people what I used to do, and they say, "You mean you were Vanna White before Vanna White?" That gets a little annoying. But I put up with it. It`s just part of life."
(Note that the below list is incomplete. Susan has a full list of her accomplishments here.)
Susan devoted her life to charity work and medicine, earning a B.A. in Nutrition and an M.A. in Clinical Psychology from Antioch University, plus a Ph.D. in Clinical Psychology from Pacific Western University. She also had a longtime relationship with Dan Enright of Barry & Enright Productions (creators of Tic-Tac-Dough and The Joker's Wild, among others), and was the company's Vice President of Public Relations.
In 1984, Susan did a commercial for Nitediet, a weight-loss supplement that was claimed to act while the user was asleep.
Around 1987-88, she hosted an informal talk show called Alive, which aired on the Christian Broadcasting Network (CBN, now known as Freeform) and in syndication. Prior to this, she hosted A New Creation for the Catholic Broadcasting Network.
Following Enright's death on May 22, 1992, Chris Sohl (who had been Barry-Enright's Vice President of Business Affairs since 1988) became the head of the company and promoted Susan to Executive Vice President. At this point, the company had several game shows, reality programs, and movies in development, including a remake of Barry-Enright's infamous 1982 film Private Lessons.[12] In late 1992 or January 1993, the company was renamed to Stafford-Enright Productions,[13] although only one project is known to have been released by this iteration of the company: the 1993 PBS documentary The Natural Solutions: Freedom of Choice and the FDA, produced and hosted by Susan.
In late 2003, Susan served as hostess for the last three shows of Game Show Week Part 2 on Hollywood Squares, replacing Ruta Lee of the 1974-76 High Rollers. In November 2010, she published a book on her Wheel tenure called Stop the Wheel, I Want to Get Off!
After Vannamania took off around 1984, however, Susan was quickly forgotten:
A Chicago Tribune interview with her in 1987 began by outright assuming the reader did not know who she was,[14] while Susan had nothing but praise for her successor before saying the quoted portion above.
During a 1991 episode of the Nostalgia Channel game show Let's Go Back (created and hosted by Scott Sternberg, who later made Wheel 2000), a question asking for the person Vanna replaced was met with silence yet, when asked who Pat replaced, a contestant immediately gave the correct answer. After Sternberg had said Susan's name, the same contestant could be heard saying "forgot that".
The 1995 book Popular Culture, Educational Discourse, and Mathematics stated that Wheel "broke ground" by declaring Vanna a "hostess" and giving her equal billing with Pat, even though Susan had the former during her tenure and the latter at least twice (twice with Chuck in 1978 and 1981, again with Pat in 1986).[15]
Wheel itself has very rarely acknowledged Susan's contributions (one notable instance being a December 1989 daytime episode which celebrated the show's reaching a combined total of 5,000 episodes), and she was not credited on the Byrnes footage that aired on the ceremonial 3,000th nighttime episode in 1998.
Susan was among the many who contributed to the show's E! True Hollywood Story in 2005. Her website contains a photo of her and Vanna titled "etrue.jpg", which would indicate it was taken during or shortly after the special's production, possibly at a viewing party.
References
External Links