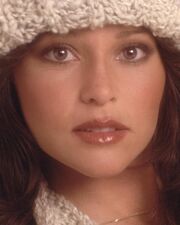 "I'm the Playmate whose IQ was three times greater than her bustline measurement."
Vicki McCarty Iovine (born Vicki Ann McCarty on January 13, 1954 from Los Angeles, California) is an American model, writer, and lawyer who is probably most famous for being Playboy magazine's Playmate of the Month for September 1979.
Vicki has held a great many roles – she has been part of the board of directors for the Special Olympics, produced various TV shows, has hosted a radio talk show of her own, and has written a successful series of "Girlfriend's Guide" and "Best Friend's Guide" books from 1995-2007, all of which regard pregnancy and motherhood.
McCarty graduated Summa cum Laude and Phi Beta Kappa from the School of Journalism at the University of California in Berkeley, going on to earn a J.D. from the University of California, Hastings School of Law and an L.L.B. degree in Public International Law from Cambridge University in England. She was working with the L.A. Examiner on a story about Playboy when she was asked to pose nude, and later said the above quote.
Vicki has four children by her husband Jimmy Iovine, but the two have since separated.
In late 1982, Vicki was one of the three candidates to replace Susan Stafford (the other two being Summer Bartholomew and McCarty's friend Vanna White), and did one or two weeks of shows; per comments made during the show's E! True Hollywood Story in 2005, Pat preferred Vicki other the other candidates, with Nancy Jones commenting "He [Pat] and Vicki had a certain personal chemistry"; though, due to Merv having the final say, Vanna eventually got the job.
While none of Vicki's episodes circulate, two are known to exist, as two of her entrances appeared during the show's E! True Hollywood Story in 2005.