As could be expected for a show that has been on as long as Wheel of Fortune, there have been a great many Wheel layout configurations. The years at the top of each column are when said changes took place, with multiple changes in a single year noted by "a", "b", etc. The spaces themselves are listed in the order they are hit when the Wheel is spun.
Note that Round 2 of 1975a and 1975b are theories based on known information about the early days; the Round 1 layouts were confirmed through the show's E! True Hollywood Story (1975a), a clip from the Belgian version of the show (1975b) and Milton Bradley's two board games (1975c), while Round 3 of 1975a was confirmed through two promos aired the week of December 30, 1974 and a press photo dated February 5, 1975.
The changes detailed here are mainly permanent ones, so one-time errors or changes are not present; also absent is the double-width $2,500 that was used for the weeks of October 15-22 and November 5-12, 2007, which covered the adjacent purple $600.
The sole exceptions to these tables are the Bob Goen layouts: Rounds 1-2 are under Round 1, Round 3 is under Round 2, and Round 4 is under Round 3.
(NOTE: the tables on this page were created by W. Austin Higgins through months of research and have been checked for accuracy. That said, if you spot an error or omission, do not hesitate to leave a message on his talk page.)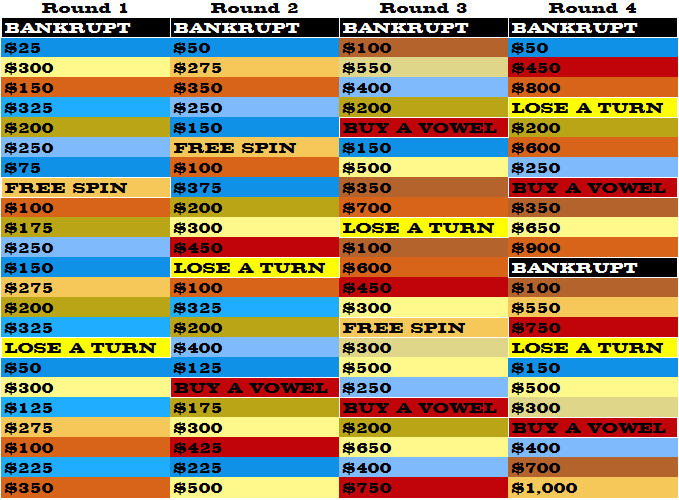 Community content is available under
CC-BY-SA
unless otherwise noted.